72 Genius Ideas to Repurpose Content and Grow Traffic
You don't have enough time (who does!), and you are practically running out of ideas on what content to create and share.
What to do when you are feeling stuck with a blank social media content planner staring at you???!!!
Repurpose content that YOU already have.
Repurposing content you already have should be part of your content marketing strategy!
You already spent time and energy creating them, so why stop there with just one post? Recreate them in different formats contextual to your audience and the platform they use.
In this article, I will tackle three very popular forms of content:
text,
visual, and;
podcast
Here are the reasons it is beneficial to you.
5 reasons why you must repurpose content
Whether you are repurposing a visual-content-to-text or text-to-image, it sure comes with benefits.
Repurposing content gives your OLD evergreen content a FRESH lease of life. You bring it to the fore once again. It is also a perfect reminder to those who missed it the first time you posted it.
Repurposing content extends the potential reach of your NEW content.
Repurposing content could get you more website traffic. (Need I say more?)
Repurposed content brings in a NEW set of audience.
Many people are visual. Perhaps the text content just whizzed by their newsfeed so tailor your content to the context of that different group of audience.
Repurposed content saves you a tremendous amount of time.
You don't have to rummage for contents elsewhere to share on social media.
What content should your business repurpose?
There is no right or wrong way to repurpose content.
Here are some ideas.
Find your top-performing blogs or posts. The easiest way for you to check this is to go to your Google analytics. Look for your top articles that are driving traffic to your site. You can use those as your base topics when repurposing content.
Twitter, Pinterest, Instagram, LinkedIn, and Facebook have a feature embedded in its analytics that tells you which posts are performing well. You know where, or how, to find that, right? You just need to decide what KPI (key performance indicator) to use for this matter.
Make it thematic. Example: group together tips that you already shared that cater to a particular target audience, if you cover several target audiences.
There are so many ways to cook YOUR content in different formats!
Here are some.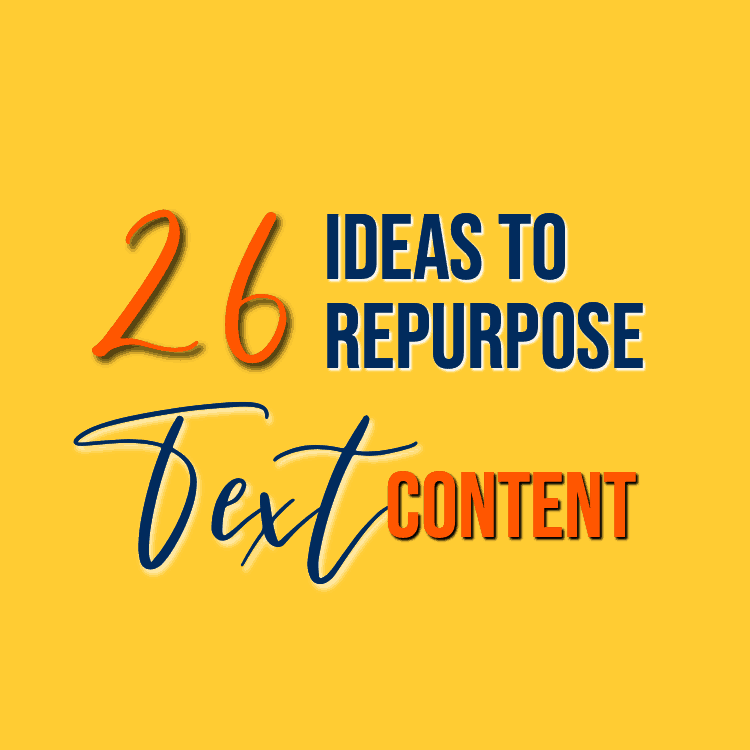 26 ideas to repurpose text content
Our clients' success in growing website traffic always begins with their website content, in the form of blogs, landing pages and sales pages.
So, how do you repurpose your blog? Here are the tips.
Turn your blog into snackable tips. Think sound bites. Post it as text.
Get your audience's opinions and create images out of it.
Ask your audience, and create a video of the best answers.
Turn snackable text tips into visual posts for social media.
Install "click to tweet" to your article.
Create an article about your top-performing posts. Share it on LinkedIn or Google My Business.
Email to your subscribers what you did on #4.
Create a video of your top blog articles. Put a short description. Don't forget to provide a link to each.
If you are hosting a Twitter chat, use your blog post as your topic for the chat.
If you are hosting a Twitter chat, convert your Twitter chat into a blog. Highlight the most relevant and helpful content. Share it with your community and cite those whose tweets you featured.
Convert section of your blog into an infographic.
Convert your blog into a downloadable listicle, if applicable.
Create a video to introduce your new blog. Don't forget the link to that blog!
Convert…
Read The Full Article