Digital Ad Spending 2019
What's Shaping the Digital Ad Market
Despite early warning signs of a global economic slowdown, the possibility of a recession is not keeping most advertisers up at night. Ad spending will continue to rise across the globe, with digital driving most of the growth. That said, total media and digital ad spending growth rates will be weaker than they were in 2018, but that's indicative of a market in transformation rather than budgets tightening.
"The advertising market is underperforming the economy, but we don't think that's because advertisers have stopped investing," said Jonathan Barnard, head of forecasting at Zenith. "Instead, we think they're investing in other areas like advertising technology, data and ecommerce."
In 2019, worldwide digital ad spending will rise by 17.6% to $333.25 billion. That means that, for the first time, digital will account for roughly half of the global ad market.
In some countries, including the UK, China, Norway and Canada, digital has already become the dominant ad medium. This year, the US and the Netherlands will join that group, with digital accounting for 54.2% and 52.6% of total ad spend, respectively. In Russia, half of total ad investments will go to digital.
Meanwhile, in less-developed countries such as those in Latin America and parts of Southeast Asia, digital ad investments will continue to lag behind traditional for the foreseeable future.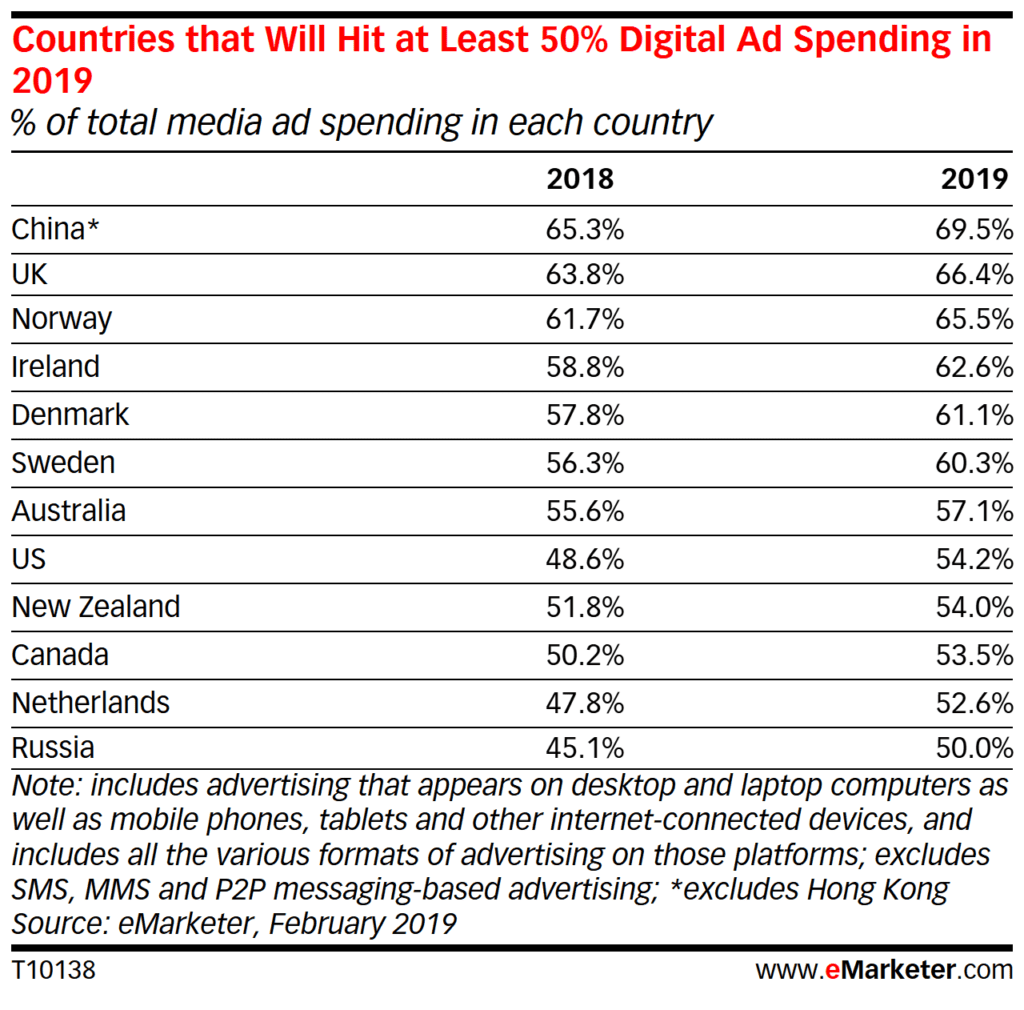 Google will remain the largest digital ad seller in the world in 2019, accounting for 31.1% of worldwide ad spending, or $103.73 billion. Facebook will be No. 2, with $67.37 billion in net ad revenues, followed by China-based Alibaba, at $29.20 billion. Though Amazon has been steadily chipping away at the Google-Facebook duopoly in the US, it will be a smaller player on the global stage, with $14.03 billion in ad revenues. (That still makes it the fourth-largest digital ad seller worldwide, however.)
The continuing shift toward digital advertising doesn't mean that traditional channels will be neglected in 2019. In fact, advertisers across the globe are beginning to strategize how to effectively leverage both traditional and digital advertising and more closely mirror how their audiences consume media. That's part of a larger trend of convergence within the total marketing and advertising landscape.
"Brands are continuing to break down the traditional marketing silos and think about customer experience first and foremost," said Sara Whiteleather, vice president of media at US-based AMP Agency. "That applies to traditional vs. digital and paid vs. owned. They're thinking holistically about how to reach consumers across all the different touchpoints in the full marketing ecosystem."
Brad Simms, president and CEO of global business agency Gale Partners, agrees. "There's a real opportunity in 2019 for brands to tell sequential stories across different media platforms in a progressive fashion," he said. "They're starting to think about how to build interesting narratives about their brand, instead of just hammering people with the same message over and over again."
But the path to cross-channel coordination isn't easy, and it won't be a reality for many companies in 2019. An average of 28% of marketers worldwide identified websites, mobile apps and video advertising, common channels for ad messages, as "siloed" at their organizations, according to a September 2018 Salesforce survey. That figure was higher for emerging marketing channels, like voice assistants and mobile messaging, but even some so-called traditional digital channels like email were above average.
At the same time, however, Salesforce found that…