How Brands Can Maintain Trust with Canada Consumers During a Crisis
Edelman's latest survey of consumers in Canada highlights takeaways for brands during and after COVID-19
The actions of brands during a crisis can make or break long-term relationships with consumers, according to the "2020 Edelman Trust Barometer Special Report: Trust and the Coronavirus."
Nearly three-quarters (71%) of consumer respondents in Canada said brands that prioritized profits over people would lose their trust forever. Similarly, almost two-thirds (65%) agreed that how well a brand responds in a crisis will have a huge impact on their likelihood of buying that brand in the future. More than a quarter (26%) said they started using a new brand based on its actions during COVID-19.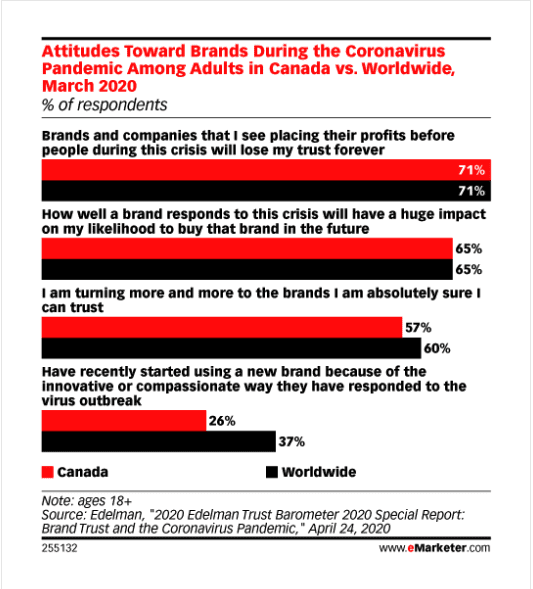 Several agency executives emphasized the heightened scrutiny on brand messaging during the pandemic. "Brands should be conscious of the purpose and the value of offers during this time," said Caroline Moul, president of PHD Canada. "Consumers want to know that a brand stands for something. They don't want a brand to be opportunistic."
Dustin Rideout, chief strategy officer at Juniper Park\TBWA, said that brands "need to consider not just how to participate with a message during this time, but how to communicate coming out of the crisis. In a response period, which is what we're in at the moment, brands should aim to provide clarity and utility—that's what people need."
When Edelman asked adults in Canada how they preferred to hear from brands about their COVID-19 response, email topped the list at 54%, presumably because it indicates an opt-in to brand communications. Traditional media formats—TV, radio and newspapers—ranked second at 39%, followed by a brand's website (36%). Social media, including Facebook, Instagram and Twitter, trailed more conventional media.
Some brands may have to…