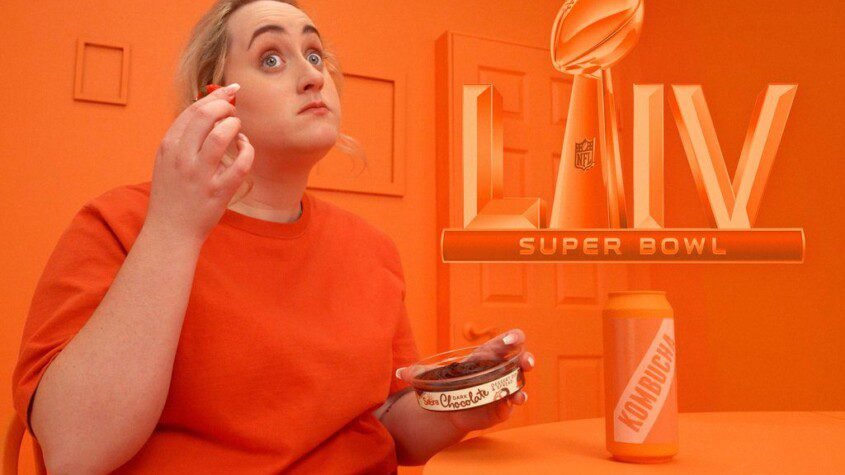 SUPER BOWL 2020 AD REVIEW
We laughed, we cried, we cringed, we saw way too many movie references
It's not hard to sit through a Super Bowl's worth of commercials and tease out some trends. As a whole, the creative was a notch above last year's. The humorous moments felt genuinely funnier without a shred of meanness (though, not everyone hit their marks, of course). It was also a more inclusive batch of ads: We saw what were most likely the first drag queens in a Big Game ad. Ellen and Portia's marriage was taken at face value. Jonathan Van Ness put the pop in Pop-Tarts. And Lil Nas X bested Sam Elliott in a dance duel.
Car commercials seemed to be having something of a renaissance. Hyundai brought the funny; Porsche the panache.
There was, as ever, nostalgia: MC Hammer and Molly Ringwald (and a Rolling Stones cover) provided cozy associations. Of course, the problem with cozy associations is that they can be lazy. There was an exhausting number of movie flashbacks, remakes and references. If Hollywood is out of ideas, don't assume adland is where you'll find new ones.
Lastly, this was the first Super Bowl with two presidential ads in it. As commercials, neither took big chances, but one may prove more effective than the other (see below).
Without further ado, here's our batch of Super Bowl ad reviews, listed by quarter and scored from one to five footballs.
One caveat before you kick off: This is all subjective—and we'll probably second guess all of these by next week anyway. (Maybe.) If you want to refresh your memory, you can watch all the ads here.

FIRST QUARTER
Quibi, "Bank Heist"
BBH LA
Score:
A bank heist goes awry when the getaway driver is too distracted watching a Quibi video while he's waiting for his accomplices. "I'll be there in a Quibi," he says, delighted by the "quick bite" content he's watching on his phone. The video platform, from Jeffrey Katzenberg and Meg Whitman, doesn't launch until April, when it plans to offer original content that can be consumed in 10 minutes or less on mobile, like when you're on line at the bank … or waiting for your accomplice bank robbers. Selling a service that doesn't exist yet is an uphill battle, but the ad, which shifts in tone from dramatic heist-y action to entertaining goofiness, is a titillating tidbit. Time will tell if Quibi itself delivers.
Snickers, "Snickers Fixes the World"
BBDO New York
Score:
Move over Coca-Cola "Hilltop" ad, here comes something Snickers-ier. After a decade of a "You're Not You When You're Hungry" messaging, the candy brand has decided it's not mere individuals who need the candy bar in these troubling times. They'd like to give the world a snack. Individuals of every creed and color join in song to bemoan the state of things: Grown men routinely ride scooters; people are naming their babies after produce. "The world is out of sorts (so messed up!). We need to fix it quicker," they sing in perfect harmony. "We have a dumb idea (so dumb!). We're going to feed it Snickers." A helicopter lowers a gigantic Snickers bar into a humongous hole in the ground, effectively feeding the planet. A pair of influencers fall in and actor Luis Guzmán (so random!) rejoices: "It's working!" Will this go down in history as a generation-defining ad? No, but it's the commercial we deserve.
Hyuandai Sonata, "Smaht Pahk"
Innocean
Score:
Hyundai's automated parking feature is not called "smart park," but you wouldn't know it by watching this spot. Here, the car's Remote Smart Parking Assist gets truncated to the Bostonian shorthand "smaht pahk." This 60-second spot for the 2020 Sonata sedan stars four celebrities with links to Boston: actors Chris Evans and John Krasinski, "Saturday Night Live" alum Rachel Dratch and Red Sox legend David Ortiz. Krasinski is shown using "smaht pahk" to squeeze into a tight space as Evans and Dratch deliver a Beantown play-by-play, including rattling off the names of Boston landmarks as only a native would—like the "Gahden" and Boston "Hahbah." The jittery repetition makes an old joke more funny than annoying, and the use of the Boston anthem "Dirty Water" by the Standells as outro music might be this commercial's most inspired detail.
Walmart, "Famous Visitors"
Publicis Groupe's Department W…