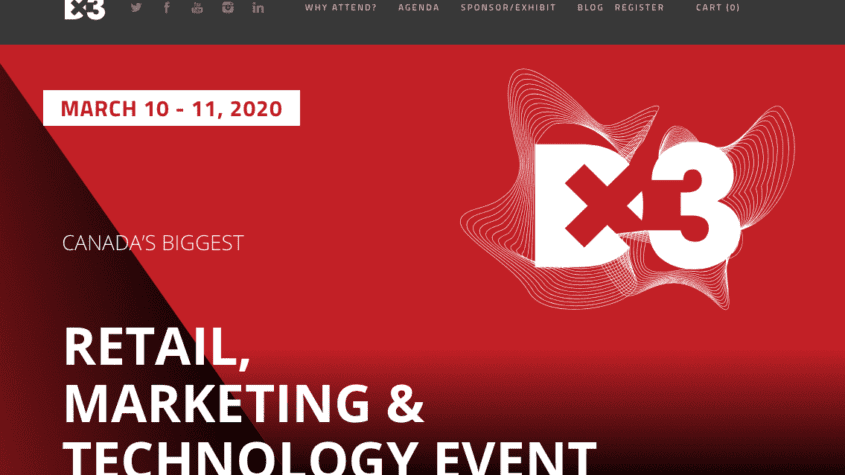 DX3 Canada is back for its 9th year!
Taking place on March 10-11, 2020 in Toronto
DX3 Canada 2020 features:
Join DX3 2020, Canada's biggest Retail, Marketing & Technology event featuring:
MARKETING & INNOVATION SUMMIT:
Discover how top marketers break through the noise, with marketing leaders who know what it takes to build successful brands and run campaigns that do well.
Hear their stories, case studies, best tips, and take part in interactive panel discussions, so that you can take home a new perspective and take your marketing skills to the next level.
RETAIL SUMMIT:
Want to know what top retailers are doing TODAY to succeed?
This two-day conference is packed with expert insights from leaders who shape the retail industry.
Hear from some of the most innovative retail professionals as well as tech experts who help retailers do what they do best.
EXHIBITION + WORKSHOPS ON THE SHOW FLOOR
Experience it for yourself! Discover new and clever concepts and solutions that can help you take your company to the next level.
And make sure to soak up advice at the DX3 TALKS as well – FREE to attend with any DX3 2020 ticket:
Taking place on two different stages, these interactive workshops are designed to give you actionable advice on HOW TO implement strategies, new concepts, and products.
For speaker overview, agenda, 2020 features and more, download the event brochure.
NOTE: Response Marketing Association (RMA) members get $100 OFF All Access tickets (even on top of the Early Bird offers which expire on January 19) with code: RMA100