See the future of online shopping. It looks nothing like Amazon
Shopping for clothes online can feel like a chore. You need to plow through row after row of outfits, filtering through categories, until you find something that catches your eye. But the Italian denim brand Diesel offers a tantalizing alternative: a digital showroom that takes online shopping to a new level, incorporating some of the best parts of physical retail.
Diesel came up with this showroom in response to a problem. Thanks to the coronavirus, buyers from department stores and boutiques couldn't visit the brand's physical showroom in Milan to explore the brand's Spring/Summer 2021 collection and place orders. So the brand's leadership quickly came up with a new plan: They partnered with the consultancy Accenture to design an immersive virtual showroom that looks very similar to the real thing, where people can saunter around mask-free, without worrying about social distancing.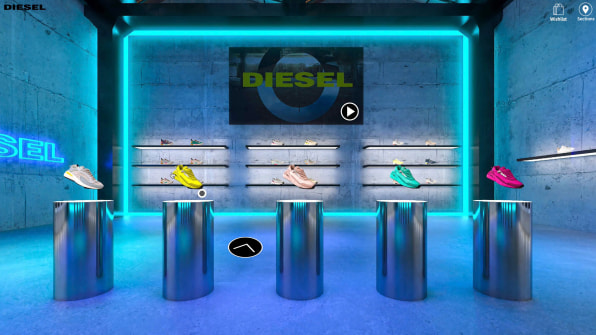 It's a fun, hyperrealistic experience that offers a glimpse into what online shopping might look like in coming months and years. "One must look for silver linings whenever and wherever possible," explains Massimo Piombini, Diesel's CEO, in an email. "2020 has sparked an urgency to accelerate what we can offer and accomplish in the digital space."
Your journey…