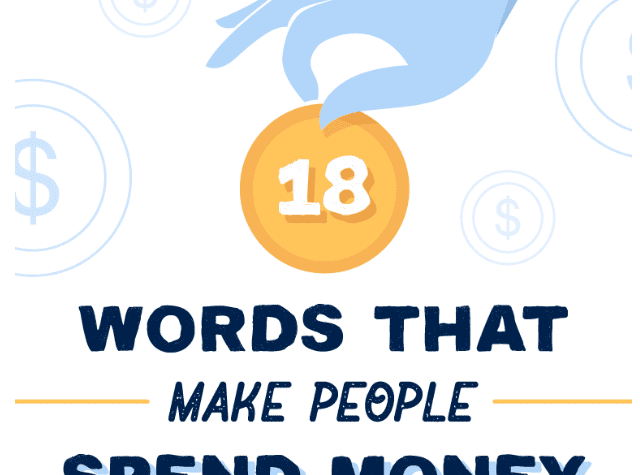 MONEY AND MARKETING: THESE ARE THE WORDS THAT MAKE PEOPLE SPEND MONEY (INFOGRAPHIC)
Looking for new ways to improve the effectiveness of your online marketing strategy? Your overall brand messaging is important – but it can also come down to the specific words you use, with certain terms and phrases shown to improve audience response, and trigger consumer action.
There's one thing us marketers all have in common: We use the written word to encourage someone to buy a product or service. The question is which words actually make people want to swipe their credit cards.
Of course, we don't condone unethical marketing here, so we're not talking about putting people under trances, sharing misleading information or anything of the like. We are, however, interested in the psychology behind communication, and how we can be clever with our use of words.
Naturally, that interest extends into curiosity about the words that make people spend money. Here's what we know:
Simply put: words matter
The language you use to promote your brand has a direct impact on sales, namely because words drive consumer interactions with your company. From direct conversations with sales reps to casual encounters with social posts, the way you deliver messages has a significant impact on buying decisions.
Word associations and connotations are partly responsible for such influence. Using an insulting, negative or easily-misinterpreted phrase can turn someone off a brand entirely, while the right conversation can have audiences clinging to every phrase.
What's more, marketing copy must align with the target audience to have any chance of resonating with them. It's similar to the noticeable difference between how you talk to your boss versus your friends, or how geographical phrases and subculture lingo can create connections between groups of people.
The words you use will help paint a picture of your product or service that you want customers to see. The written word helps you connect with them, grab their attention, play on curiosities, address pain points and, ultimately, convince them that you're worth the money.
The $$$ words
Before we dive into the words that make money, let's start with some general pointers:
Use strong verbs to encourage action (and by action, we mean spending money).
Appeal to the senses with sensory words that tell a more engaging and persuasive story.
Evoke emotional reactions to influence buying decisions.
Choose positive connotations, always steering clear of words and phrases that may inspire negative thoughts or feelings.
Remember that context matters; only use these words when they make sense and complement your brand voice.
Ready to boost your sales with the written word? Here are the words to know: