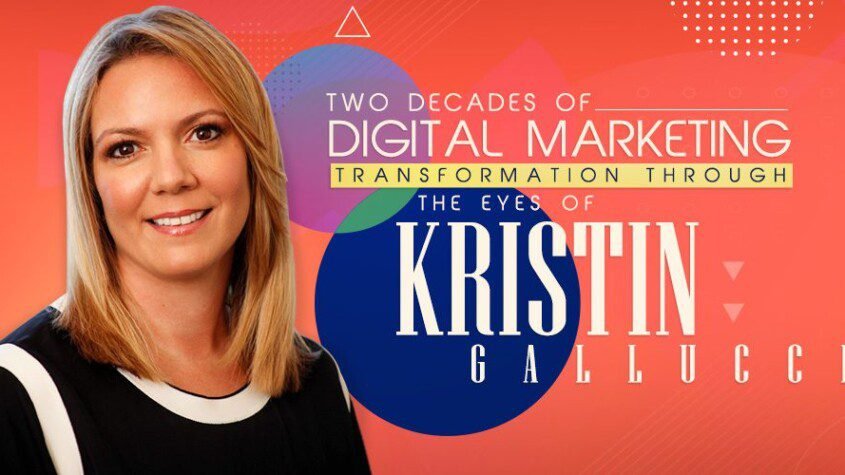 Two Decades of Digital Marketing Transformation Through the Eyes of Kristin Gallucci
Branex is back with yet another special guest. The guest, we're delighted to have today, has been in the industry for nearly two decades and has practically experienced the paradigm shift of digital marketing. She has been dubbed as one of the top voices for Marketing & Social Media on Linkedin for consecutive years: 2018 and 2019.
As an avid customer-centric marketer, she founded Modern Marketer, which has helped scores of brands and Fortune 50-500 companies with branding and social strategies. She is often cited in famous publications like Adweek and Inc. Magazine.
Being a passionate speaker, she regularly speaks about how the world of digital marketing is evolving and what marketers should do to glean more eyeballs. Recently she graced TED Talks with her presence and spoke passionately about Rethinking Relationships.
Currently, she's serving as the head of digital marketing strategy at Signarama and is on the Board of the American Marketing Association. With immense pleasure and gratitude, we would like to welcome Kristin Gallucci on our blog.
Branex: Kristin, thanks for taking out time for Branex. One of the most prominent things about your marketing approach is that it revolves around customers. How necessary is it for modern-day marketers to provide solutions for their customers rather than focusing on highlighting their products and services?
Kristin: Focusing on customers isn't just a consideration, it has to become a core value. People don't want to be sold to, they want their problems solved, fast and friction-free. They want to build relationships, but on their terms. It's our job as marketers to help them make choices and solve their problems while building a long-term relationship. It's not easy and it starts with listening to them and nurturing the relationship to create brand loyalists.
Customer-centricity is a culture shift and must be embraced by the entire organization to be successful. It must become a core value of the organization and be infused in every department not just marketing – customer service, sales, etc. Organizations have countless customer touchpoints and endless opportunities to build relationships and trust. An organization that forgets about customers is destined to fail.
Branex: Marketing has evolved so much in the past two decades, do you think there is still space for traditional marketing tactics?
Kristin: We are in the era of specialization. There is no one-size-fits-all approach to market any product or service. A digital presence is necessary, traditional tactics are not. Consumers now rely on digital marketing and other tools to make their product discoveries and purchase decisions. However, every marketing strategy and plan must be customized. I know a lot of companies that are thriving with traditional methods as well as with digital. Many brands and companies are using tradigital, a blend of the two. The idea is to use the traditional in new ways with a focus on creativity and customer experience. I recently posted this example on Linkedin of a British Airways campaignusing OOH in a unique way.
They used surveillance technology to sync the creative with actual flights in real-time. It's a unique approach to OOH, something we haven't seen much of here in the US, but I believe these unique experiences will become more common as companies seek to find new ways to capture attention.
Branex: Advertising is still a heavily spent area for brands and provides a chance for advertising agencies to come up with new innovative ways to attract customers through ATL and BTL activities. How much do advertising agencies focus on digital media and is it more effective than going towards the old-school forms of advertising?
Kristin: It can be more effective generally, but it also depends on the audience. If you are targeting Gen Z, traditional methods won't be effective. They are a device generation, they use voice and want everything faster. Impactful visuals and effective messaging will always win, the platform and tools we use are ever-evolving. Digital and interactive media is necessary.
When it comes to developing strategies, both ATL and BTL can be successful, they are just different. If there is a budget, then TTL (through the line), a mix of both ATL and BTL, should be considered. If we take a short-term planning approach and test campaigns, then we can shift as needed, as the market dictates.
Branex: You are one of the prominent voices, actually, Top Voices on Linkedin for 2018/2019 and a TED Talks speaker. What would you like to tell digital marketers, entrepreneurs who are beginning their journeys in the realm of digital marketing?
Kristin: I recently wrote a post on this
The industry is influenced significantly by major technological and social changes. What we are learning today is not going to be applicable in 5-10 years. We must always be learning. Read the industry publications, attend events (even outside marketing like SXSW and CES) and listen to the voices that are on top of the changing industry.
Don't get lost in…