10 Ecommerce Trends That You Need to Know in 2020 [Infographic]
In 1995, the first item ever was ordered online on Amazon – a book.
Around 20 years later, the ecommerce industry has made over 2 trillion US dollars in sales worldwide. There's no looking back now.
Ecommerce has revolutionized retail. It has evolved to meet the changing needs of people, and to make online shopping easier for the modern day customer. When it started, ecommerce was fairly limited in its capabilities. But not anymore. Whether it's customization, enhanced return policies, or improved integration, all of these changes (among countless others) have taken the world of ecommerce by storm. And 2020 is here to further transform the world of ecommerce.
So, if you're still on the fence about the future of ecommerce, these ecommerce trends will prove to you that ecommerce isn't just rapidly growing, it's here to stay. And you too can include these ecommerce developments into your business to ensure steady growth of your online store. 
To take your ecommerce business to the next level in 2020, make sure to take advantage of these emerging trends in the ecommerce industry. 
Why Are Ecommerce Trends so Important?
The ecommerce world is becoming increasingly competitive. To stay ahead of the competition, ecommerce trends need to be constantly monitored. No matter how mature your ecommerce store is right now, if you don't keep up with ecommerce trends, you'll risk falling drastically behind. You need to keep looking ahead to ensure future success. As we move into 2020, you need to know these trends in order to take advantage of them. That's why it's so important that ecommerce trends are analyzed and adopted in a timely manner. By doing this you can drive your ecommerce brand forward, and stay ahead of your competition.
Top Ecommerce Trends 2020:
Are you wondering what the future of ecommerce looks like? Do you want to look into what trends will shape the success of your online store? Here are the top 10 ecommerce trends for 2020 that you need to look out for.
1. Online Sales Growth is Unstoppable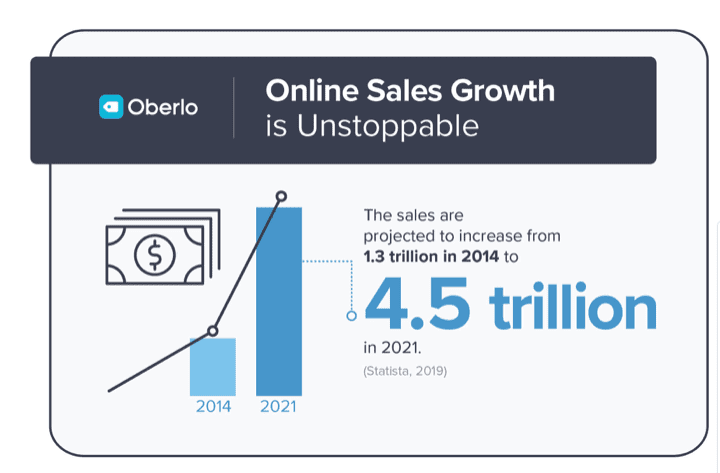 Ecommerce sales have been growing constantly and for good reason. Online shopping is one of the most popular online activities. The sales are projected to increase from 1.3 trillion in 2014 to 4.5 trillion in 2021 (Statista, 2019). That's a massive figure. It would mean a threefold growth over a 7-year span. 

Even though online shopping is one of the most popular online activities, the usage varies by region. With the increasing popularity of ecommerce stores, a rising number of people are turning to online shopping. This increase in online shopping can be attributed to a number of factors. One of the main ones is arguably the level of comfort that is provided to online shoppers. There is also an increase in trust that online buyers have when they are purchasing online, as well as improved website experience. At one point, people used to be hesitant to buy things online, but that's no longer the case. Websites have been made more customer-friendly. With all the comfort that is provided, there's no surprise that online sales growth is becoming unstoppable.
2. The Future of Ecommerce After COVID-19
Undeniably, one of the biggest impacts—if not the biggest—on ecommerce trends in 2020 will be COVID-19.
With governments worldwide shutting stores and implementing lockdowns to restrict social movement for months on end in a bid to combat the coronavirus, more and more people are resorting to online shopping to purchase items.
Already, ecommerce giant Amazon's Jeff Bezos has seen his fortune grow by nearly $24 billion thanks to increased customer demand for Amazon's products and services.
And experts predict that the impact of the coronavirus will not just be a short-term boost to ecommerce but one that's here to stay, even after COVID-19. This is because people will get comfortable with the comfort and convenience it offers and the benefits of contactless payments, both of which are likely to cause a permanent behavioral shift towards digital purchases.
In fact, market analysts say that the ecommerce industry will be the biggest beneficiaries of the coronavirus pandemic. Penetration rates, which are currently at 15 percent, are expected to increase to 25 percent by 2025 (MarketWatch, 2020). That marks a 67 percent increase in five years.
The positive COVID-19 impact on ecommerce, unfortunately, spells a heavy loss for brick-and-mortar stores. As many as 100,000 are forecast to shut over the next five years.
At an estimated 24,000 closures, apparel retailers will be the most affected, followed by 12,000 consumer electronics stores, and 11,000 home furnishings and grocery stores each.
3. Mobile Shopping is…