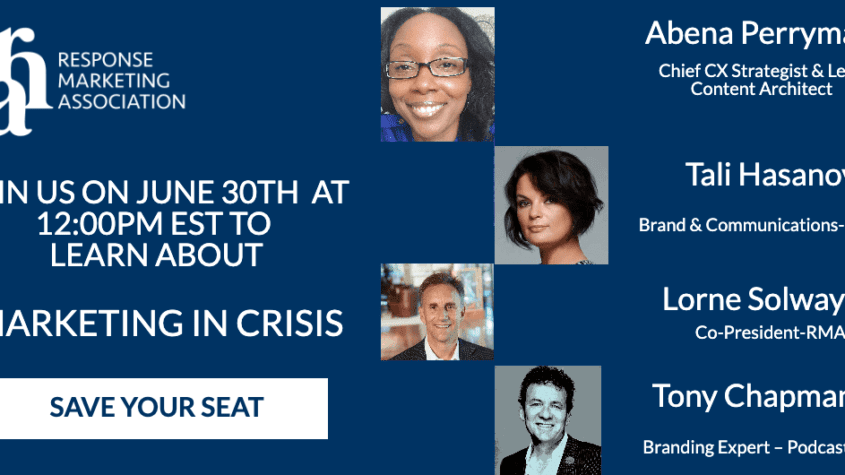 Marketing in Crisis
How do you market when it is no longer business as usual but you still need to do business?
No one could have predicted the events of 2020 or their impact on our personal and professional lives. Where and how we work has changed and we don't know when or if it will go back to the way it was before. Even though it is no longer business is usual, business still has to go on, including marketing, but how do you do that in the midst of a crisis without appearing insensitive or tone deaf?
In this 60-minute webinar, a panel of marketers shares best practices, real world examples, and pitfalls to avoid when marketing during a crisis.
In this webinar you'll learn:
• How to engage your target audience sensibly and with empathy
• How to tailor your strategies to fit today's marketing landscape
• How to protect your brand while still pursuing business objectives
• How to adjust your strategies for each marketing channel
Our Moderator:
Lorne Solway
Lorne is presently the VP Trade Marketing for Kognitiv Corporation, a disruptive technology driven organization focused on new and emerging Loyalty solutions. Lorne has over 25+ years' experience as Senior Marketing/Strategy Executive & Loyalty CRM Expert. He has been a committee member and Awards Judge for the Canadian Marketing Association (CMA) and is Presently Co-President and a Board Member of the Response Marketing Association (RMA).
Our Panel:
Abena Perryman
A managing partner at Andrew Perry in Toronto, Abena is a self-proclaimed customer evangelist, who loves to dissect the customer journey identifying how organizations can better connect with their customers. She has spent the last 20 years helping organizations craft better marketing strategies by building deeper relationships with both their internal and external customers. Defining Customer Personas, mapping customer journeys, crafting content and measuring results is what revs up this digital marketing strategist.
Tony Chapman
Tony is the Host of the podcast Chatter that Matters that personalizes the stories of small business owners, so that we all take their challenges personally. He is one of the youngest individuals to be inducted into the Marketing Hall of Legends, testament to a career where he built two internationally renowned communications agencies and a research firm. He is also a frequent contributor to the conversation on television, radio, and national newspapers.
Tali Hasanov
Tali is a results-driven digital marketer with a track record of growing her clients' businesses and driving revenue. Her 15 years of varied and in-depth experience has helped to make her an industry leader. And in a rapidly evolving field, she's been able to stay several steps ahead of the mainstream trends, a significant advantage that pays huge dividends for the small–to–medium size businesses that she serves. As the business owner at WSI Digital Path, she takes great pride in delivering powerful but cost-effective solutions for her clients.