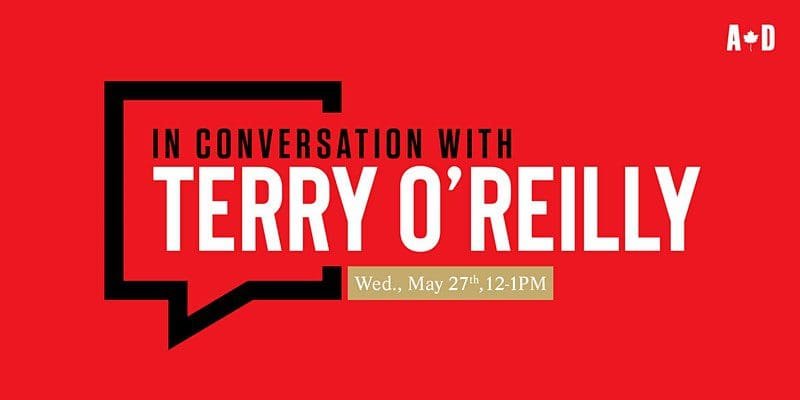 In Conversation with… Terry O'Reilly
Join The ADCC for a virtual conversation with Terry O'Reilly
About this Event
He's the host of the hit CBC radio show and podcast 'Under the Influence', a best-selling author, a true advertising legend and next to Tom Hanks, he's the nicest guy on the planet.
Join ADCC President Andrew Simon for an intimate chat with Terry about his storied career and what continues to fuel his passion for all things marketing.
It all goes down on May 27th from 12-1 EST. The opportunity to hear from one of the most celebrated voices in our industry is not to be missed, so sign up now!
SCHEDULE
12 – 12:45pm – Conversation with Terry O'Reilly
12:45 – 1pm – Audience Q&A
This event will be held using Zoom. Attendees will receive instructions and a link to the Zoom meeting (including password information) the morning of May 27th.
ABOUT TERRY O'REILLY
Plucked out of Romper Room to be in a TV commercial in 1963.
Ad-libs line. Director laughs.
Fate sealed.
After university, Terry sent out 60 resumes to 60 advertising agencies looking for a writing job.
He received 61 rejection letters.
Eventually an ad agency took a chance on him and discovered he had a knack for writing commercials that made people laugh while persuading them to buy.
In 1990, Terry co-founded Pirate Radio & Television, an audio production company with eight recording studios in Toronto and New York.
He has won a few hundred awards and has directed actors such as Alec Baldwin, Ellen DeGeneres, Bob Newhart and Martin Short.
The advertising industry that tried to reject him 61 times eventually gave Terry three lifetime achievement awards. He is also in possession of three honorary doctorates.
His CBC radio show, Under The Influence, attracts over one million listeners per week. The New York Radio Festival chose it as the Best Radio Program two years in a row. A Globe & Mail study named it the most-listened-to Canadian podcast. iTunes also chose it as one of its best podcasts.
Each week, Terry takes listeners on a unique journey revealing the hidden insights behind persuasion and marketing. With a heaping tablespoon of humour.
He has written two books – the latest titled: This I Know: Marketing Lessons From Under The Influence. A #1 bestseller.
He has a wonderful wife and three lovely daughters.
Who like some of his work.
ABOUT THE ADCC
The Advertising & Design Club of Canada (ADCC) is a non-profit, non-political group dedicated to encouraging excellence in Canadian advertising and design. The Club's overall goals are simply these: to inspire creativity, to provide a forum for the exchange of ideas, to forge a sense of community and integrity among advertising and design professionals.